UK University foreign enrolment of 600,000 students – Higher Education Statistics Agency (HESA) data. The UK released a new international education strategy in March 2019. The strategy set out some concrete targets for growth through 2030, including a goal to reach a foreign enrolment of 600,000 students by that year – an overall increase of roughly 30% compared to 2017/18 levels.
Just about two years later – and nearly a decade ahead of schedule – that enrolment target has already been reached. The latest data release from the Higher Education Statistics Agency (HESA) reports a total of 605,130 international students enrolled for the 2020/21 academic year. This represents a year-over-year increase of nearly 9% from 2019/20 and extends a pattern of steady growth for UK higher education over the last five years.
That growth trend is all the more remarkable as it occurs alongside the UK's departure from the European Union in January 2020 and of course the COVID-19 pandemic. Commenting on enrolment patterns for 2020/21,
"Despite fears about the potential effect of the pandemic on international student numbers, the 2020/21 student data still shows an overall increase in international first year students," said HESA policy and research analyst Lucy Van Essen-Fishman. "First year first degree student numbers from the EU are up by 8%, only slightly below the rate of increase for first year students overall; EU-domiciled postgraduate student enrolments are also up…The 2020/21 academic year was the last year in which EU students were guaranteed home fee status, which may have encouraged EU applicants not to defer their studies, despite the uncertain pandemic situation."
She added that, "The number of international first year first degree students from outside the EU is down slightly on 2019/20, but this is counterbalanced by a 7% increase in non-EU postgraduate research students and an 8% increase in non-EU taught postgraduate students, who represent the largest single group of international students…It seems clear that, despite the pandemic circumstances, UK higher education remains an attractive option for international students."
And there are signs of continuing strong demand going forward. Fuelled in part by the reintroduction of post-study work rights for international students, the UK issued a record number of student visas in 2021, with that growth being driven primarily by non-EU markets.
For the year ending September 2021, UK immigration officials issued a total of 428,428 study visas, representing 143% more than for the year ending September 2020 and 55% more than for the year ending September 2019.
Commenting on that record level of student visas, Vivienne Stern, director of Universities UK International, said,
"It is simply fantastic to see such a strong percentage increase in the number of student visas granted over the past year. In the face of unprecedented challenges, UK universities have not only pulled through, but delivered a truly welcoming and high-quality experience for students around the world. Supported by flexible, understanding, and competitive policies from UK government, this has been an extraordinary period in the UK's international student recruitment. I hope we can take this collaborative spirit forward as we address existing
challenges and opportunities in the recruitment space."
Where do 2022 students come from?
As we see in the table above, the balance is shifting over time such that a greater proportion of students are coming to the UK from outside of the EU. In 2016/17, students from European Union countries accounted for 31% of all foreign enrolment in UK universities. That percentage has fallen to 25% as of 2020/21.
The following chart indicates the top EU sending markets and shows that, while relatively flat, Italy and France remain key markets for British higher education within Europe. While German enrolments have declined in recent years, those losses have been offset (and more) by growing numbers from Portugal, Poland, Romania, and Spain.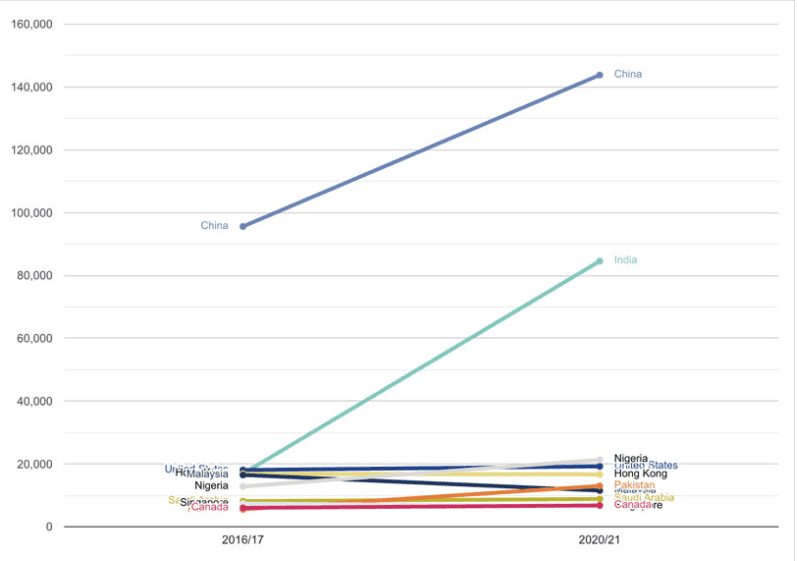 HESA UK notes the following key points in terms of non-EU enrolment trends.
"China sent more students to the UK than any other overseas country. In 2020/21, 32% of all non-EU students were from China. The number of students from China has increased by 48,225 or 50% over the five-year period 2016/17 to 2020/21."
"While the numbers of student enrolments from India are not as high as from China, there has been a notable increase of 67,660 over the five-year period. Large increases were observed in 2019/20 and 2020/21. Students from India represent 19% of all non-EU enrolments in 2020/21."
"Students from Nigeria place third in enrolments from outside the EU, but this and other countries are more in line with the numbers of enrolments from EU countries."
"Student numbers from Malaysia saw a decline of 30% over the five years, dropping below enrolments from Nigeria and Pakistan."
We can draw from those points that China and India together account for just over half of all non-EU enrolments in the UK. While China remains the leading non-EU sender, growth in Chinese enrolments shows signs of flattening this year (with a 5% decline in commencements compared to 2019/20) whereas Indian numbers are more robust with a 27% year-over-year increase in first-year numbers. UK University foreign enrolment of 600,000 students – Higher Education Statistics Agency (HESA).
#UK #admissions #university #highereducation