Sumana Das
Hi, I am Sumana Das and here is my story of success!
Read my story and get yours Published!
My Background:
I come from a middle-class family in Kolkata, India. I have accomplished a Bachelor's degree in Electrical Engineering (B.tech) and have also obtained a diploma in the same field. I relocated from Malda to Kolkata with the sole purpose of pursuing my education. After successfully securing admission to Techno India College of Technology, I embarked on my Bachelor's degree journey in Electrical Engineering. After completing my Bachelor's degree, I demonstrated a keen interest in AutoCAD design. To further enhance my skills in this area, I proactively sought and underwent specialized training. I possess a deep passion for travelling, particularly in hilly areas, where I find solace and inspiration. Additionally, I have a strong affinity for sketching, which allows me to express my creativity. I belong to the Bengali culture. which is very inclusive in nature. I love every bit of it and also I like to explore the diversity of other cultures.
My Journey:
After completing my secondary education and higher secondary education, I laid the foundation for my academic journey, ensuring a strong educational background. With a keen interest in electrical engineering, I pursued a Diploma in Electrical Engineering at Malda Polytechnic College. This comprehensive program equipped me with practical skills and theoretical knowledge to excel in the field. Upon successful completion of my diploma, I embarked on my professional journey as an Electrical Engineer. To further advance my expertise and career prospects, I pursued a B.Tech degree at Techno India College of Technology. This higher education provided me with in-depth. Alongside my educational pursuits, I prepared diligently for Government job opportunities in the electrical engineering domain. I aimed to secure a position that aligned with my career aspirations and provided stability and growth prospects. Unfortunately, the COVID-19 pandemic presented unforeseen challenges, disrupting my preparation for Government jobs.
Despite the challenges, I persevered and secured a position as an Assistant Project Administrator at Stunited CIC. This role allows me to utilize my skills and contribute to meaningful projects within the organization. My goal is to leverage my knowledge and experience to excel in my role and add value to the company's projects and initiatives.
My Learning:
I am well-versed in using AutoCAD Electrical, a specialized software used for electrical engineering designs, as well as AutoCAD for both 2D and 3D modeling. These tools enable me to create precise and detailed engineering drawings and layout. Model-Based Development is a critical aspect of my skill set, allowing me to design using modeling and simulation techniques. Proficiency in MS Office applications allows me to create comprehensive reports, data analysis, and presentations that effectively communicate engineering concepts and results. Canva is a helpful tool that makes it easier for me to create beautiful presentations. My diverse skill set enables me to take on a wide range of engineering projects, from electrical design using AutoCAD to complex simulations with Matlab and Simulink. I have successfully completed a comprehensive learning course focused on WordPress and Elementor. During the course, I delved into the intricacies of WordPress, a highly popular and versatile content management system.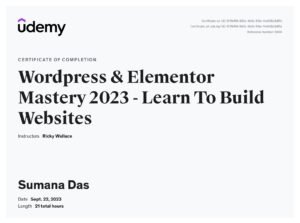 My Achievements:
Completed vocational training at WBSEDCL on 33/11 kV transformer coil & oil temperature measurement. Certified in 2019. Acquired skills in load management according to demand. Gained expertise in performing weekly maintenance of all equipment. Undertook industrial training at G.E Motors Pvt. Ltd. Certified in 2019. Focused on single-phase AC motor winding calculation. Studied single-phase AC transformer winding calculation. Developed algorithms for DC motor speed control using MATLAB. Certified in Computer-Aided Design (CAD) by the National Skill Development Corporation. I excel in creating detailed and accurate two-dimensional drawings. My proficiency in AutoCAD 3D design allows me to develop three-dimensional models that bring ideas to life. Within AutoCAD Electrical, I have specialized knowledge in electrical engineering design.
Contact Stunited, and create your own story of success with us!