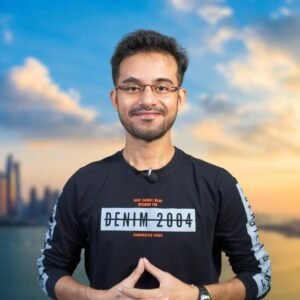 Suhrid Ghosh
Background:
Born and raised in the vibrant city of Kolkata, India, I am Suhrid Ghosh, a 30-year-old individual from a humble middle-class family. Growing up in the 90s, I witnessed the rapid transformation brought about by the Internet revolution and the booming IT industry. Throughout my academic journey, I excelled in my studies and completed my Secondary education from Ramakrishna Mission in 2009, followed by Higher secondary education under the West Bengal Council of Higher Secondary Education in 2011. My passion for science led me to pursue a degree in Biochemistry from Calcutta University, which I proudly obtained in 2016.
My Journey:
While in college, fate dealt me a challenging blow in the form of a life-altering car accident during the final semester of my graduation in 2015. The accident resulted in multiple injuries, including Traumatic C4-5 with Quadriparests, Traumatic Brain Injury, and Facial/Scalp Lacerations, delaying my graduation by a year. Enduring immense physical and emotional challenges, I embarked on a journey of resilience and self-discovery.
During my recovery, I underwent a profound transformation. My perception of life shifted, and I conquered my fear of losing anything. This life-changing experience led me towards the path of spirituality, discovering the inner strength to face any adversity that life throws my way. Determined to regain my physical health, I committed myself to various activities such as swimming, running, and hitting the gym, constantly striving to lead a normal and active life.
My Learning:
In the midst of adversity, I grasped the opportunity to broaden my horizons. As a part-time worker for a UK-based social media company called Stunited during my college days, I delved into the world of digital innovation and technology. This experience ignited my passion for the latest tech gadgets and inspired me to start a YouTube channel named "Technical Chanakya" during the pandemic lockdown. My objective was to educate and raise awareness among people, especially in my mother tongue Bengali, about the various aspects of technology.
My Achievements:
My dedication and perseverance did not go unnoticed. In 2017, I joined Stunited on a full-time basis and, over the years, climbed the ranks to become a Senior Project Associate in 2022. Managing interns, providing guidance, and coordinating with our UK office team while sitting in my hometown have been thrilling challenges that I embraced wholeheartedly. I take immense pride in my role as a problem solver and innovator, consistently implementing new ideas to drive the company forward.
Beyond my professional accomplishments, my passion for public speaking, motivational speeches, and politics has fueled my ambition to bring about positive change in society. While continuing to excel in my current profession, I am tirelessly working on honing my skills to achieve these objectives.
Conclusion:
My journey from adversity to success has taught me the value of resilience, determination, and self-belief. Embracing every challenge as an opportunity to grow, I have emerged stronger, both personally and professionally. From a biochemistry graduate to a tech enthusiast, a YouTube content creator, and a devoted Project Manager, I have come a long way. I am committed to using my knowledge, experiences, and skills to inspire others and make a positive impact in the world.
With unwavering passion and a thirst for continuous learning, I now stand as a testament to the power of determination, proving that one can overcome any obstacle and triumph over life's adversities. My story is a testament to the unwavering spirit within us all, urging us to strive for greatness and embrace the journey of life with open arms.