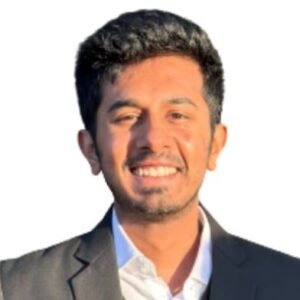 Pranav Menon
Business Development Intern
Stunited CIC
Northampton
Hi, I am Pranav Menon, and my success story is a testament to my forward-thinking mindset and result-oriented approach in the field of Mechanical Engineering and Management. Currently pursuing an MSc in Management at Cranfield University, I bring over two years of diverse experience in non-profit organization management and the start-up industry. My skills in strategizing, planning, and implementing operational projects have driven product growth and enabled me to achieve targets successfully. With a passion for project management and consulting, I am a self-motivated professional who excels in cross-functional areas and thrives in multicultural environments.
Background
My journey began with outstanding achievements during my primary education in Chennai, Tamil Nadu. Securing the 4th position in the state in 10th standard with an impressive score of 496/500 and 1152/1200 in the 12th standard, I laid the foundation for a brilliant academic career.
Determined to excel in the field of Mechanical Engineering, I earned a seat at Rajalakshmi Engineering College, Chennai. My dedication and brilliance shone through as I completed my degree with flying colours. My accomplishments opened doors to a promising career, and I successfully cleared the interview at TCS, securing the position of Assistant System Engineer. Excelling in my role for two years, I decided to pursue higher education at one of the elite schools for Management – Cranfield School of Management. Currently pursuing an MSc in Management, I embraced the opportunity to broaden my horizons, even travelling to Spain to complete two modules as part of the course.
Journey
My pursuit of excellence led me to an internship at Stunited CIC as an HR intern. As I continue to explore my potential, I aspire to secure a full-time role as an HR Manager or Project Manager.
Achievements
My accomplishments are a testament to my academic and professional excellence. My outstanding performance earned me a scholarship of 3000 pounds from Cranfield University, recognizing my dedication and exceptional abilities.
An esteemed member of the Association for Project Management (APM), I hold the prestigious Project Management Professional (PMP) certificate from the Government of India. Committed to continuous learning and skill development, I completed various certifications and training programs that further enhance my expertise.
During my undergraduate studies, I demonstrated remarkable leadership as I spearheaded a team responsible for organizing and executing a successful National Level Cultural event named "Recharge" in 2019.
Driven by a passion for making a positive impact, I volunteered as an English and Mathematics teacher for five students from economically disadvantaged backgrounds at the Children's Home of Hope in Chennai. My dedication to serving the community is further evident through my active involvement in the National Service Scheme (NSS) and Blood Donation drives.
Learning
My quest for knowledge and professional growth is evident in my proficiency in Project Management Software such as Asana, AUTOCAD experience, and Microsoft Office Suite (Word, Powerpoint, and Excel). My commitment to continuous learning is showcased through various certifications, including Agile Project Management, Project Management Professional (PMP), Learning Asana, Strategic Planning Foundations, Introduction to ESG: Environmental, Social, and Governance, and Lean Six Sigma Foundations.
My journey is a testament to my dedication, perseverance, and passion for personal and professional growth. With a diverse skill set and a heart for serving others, I continue to inspire those around me and carve a path of excellence in the business and management world.
Contact Stunited, and create your own story of success with us!