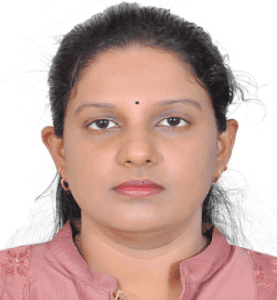 Naga Mounika Bodavarapu
System Analyst
Hubbell India Pvt Ltd
Chennai, India
Profile
Hi, I am Naga Mounika Bodavarapu and here is my story of success!
Read my story and get yours Published!
My Background:
My educational journey commenced in 2014 when I successfully earned a bachelor's degree in advanced computer science from Sree Vidyanikethan Engineering College, Tirupati. This foundational education provided me with a solid understanding of programming languages, including Java, SQL, and cloud computing, setting the stage for my future career endeavors.
After completing my bachelor's degree, I embarked on a fulfilling eight-year journey in the realm of technology, specializing in the Master Data Management (MDM) tool known as STIBO STEP. During this time, I worked with global US clients, gaining extensive hands-on experience in leveraging STIBO STEP for various data management needs. This period not only honed my technical skills but also nurtured my problem-solving abilities, critical thinking, and attention to detail.
My Journey:
In the same year, I embarked on my professional journey by joining Tata Consultancy Services. Here, my focus was on utilizing the Master Data Management (MDM) tool known as STIBO STEP for global US clients. Over the course of eight years, I became a seasoned expert in STIBO STEP, delving into its intricacies and functionalities. My career journey then led me to the Hubbell India team, where I took on the role of a System Analyst, specializing in the utilization of the STIBO STEP tool. This role not only allowed me to deepen my expertise in STIBO STEP but also introduced me to the SAP SD platform, further enriching my skill set for future projects.
Currently, I'm pursuing a master's degree in Cloud Computing at the University of Leicester, a program that has opened up new horizons in the world of technology.
Simultaneously, I'm gaining practical experience through an internship at Stunited, where I'm expanding my knowledge in full-stack development and honing my skills in preparing, presenting, and conducting engaging webinars.
My Learning:
My educational and professional journey has been characterized by continuous learning and skill development:
Undergraduate Studies: My bachelor's degree provided me with a strong foundation in programming languages, including Java, SQL, and cloud computing. These skills have been instrumental throughout my career.
Tata Consultancy Services: During my tenure here, I not only mastered the STIBO STEP tool but also delved deep into its various functionalities, honing my data management skills and technical prowess.
Hubbell India: This phase introduced me to the SAP SD platform, diversifying my skill set and expanding my expertise in data management solutions.
Master's Degree: Pursuing my master's degree in Cloud Computing at the University of Leicester allowed me to explore the dynamic world of cloud technologies, culminating in the successful completion of the AWS Cloud Practitioner certification.
Internship at Stunited: Here, I've embarked on the journey of full-stack development, a crucial skill set for crafting dynamic web applications. Additionally, I've enhanced my communication proficiency through the preparation and delivery of engaging webinars.
Throughout these phases, I've not only acquired technical skills but also invaluable soft skills such as effective project management, collaborative teamwork, and adaptive problem-solving strategies. These qualities have significantly enriched my professional journey, enabling me to excel in the ever-evolving field of technology and data management.
My Achievements:
Alongside my professional journey, I've actively contributed to organizing college fests during my bachelor's degree, showcasing my leadership and event management skills. I was honored as the Best Employee of the Year in 2018 at Hubbell India, a testament to my exceptional contributions to the organization. Additionally, I earned the title of Star Performer of the Year in both 2016 and 2017 at Tata Consultancy Services, highlighting my consistent dedication and outstanding performance. My commitment to continuous learning led me to complete the AWS Cloud Practitioner certification, demonstrating my expertise in cloud computing. Moreover, I've acquired the skills to lead an entire STIBO STEP project, showcasing my capabilities in data management and technology. My tenure at Hubbell also equipped me with valuable management skills, enabling me to lead a team in providing STIBO support, a role that required effective leadership and problem-solving abilities.
In conclusion, my journey has been marked by unwavering dedication, a thirst for knowledge, and a commitment to achieving excellence in the world of technology and data management. As I continue to explore new opportunities and challenges, I'm eager to apply my skills and experiences to make a meaningful impact in this dynamic field.
Contact Stunited, and create your own story of success with us!