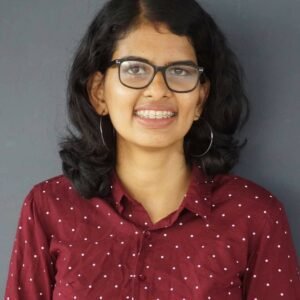 Keerthana Sasi
Marketing & Management Training Consultant
Stunited CIC
Leicester; UK
Hi, I am Keerthana Sasi and here is my story of success!
Read my story and get yours Published!
My Background:
Hello, I am Keerthana Sasi, and I am thrilled to share with you the incredible journey of my life, filled with a deep passion for literature, a relentless pursuit of knowledge, and a determination to make a positive impact in the world. From my humble beginnings as a graduate in English Language and Literature from St. Joseph's College Devagiri to my current pursuit of a master's degree in Business and Administration at De Montfort University, Leicester, my story is a testament to the power of dreams, perseverance, and the joy of creative expression.
My Background: My love affair with words and literature began early on, as I immersed myself in the magical world of books during my formative years. After graduating from St. Joseph's College Devagiri in English Language and Literature, I honed my writing skills and embarked on a journey to create my own literary masterpieces. Along the way, I had the privilege of interning at The New Indian Express, Kochi, where I gained valuable insights into the world of journalism and financial reporting. The experience fuelled my curiosity to explore the intersection of business and media, setting the stage for exciting opportunities that lay ahead.
My Journey:
My journey as a financial journalist at Myfinglobal allowed me to produce impactful stories, shedding light on the remarkable achievements of start-ups and women-initiating enterprises. These stories became a voice for the unsung heroes of the business world, and I took immense pride in contributing to their success. Driven by a desire to push creative boundaries, I assumed the role of Executive Editor at Idam Magazine, where I had the opportunity to execute my innovative ideas and contribute to the growth of the publication. The experience nurtured my overall management skills, ranging from content creation to financial planning and team coordination.
My Learning:
Throughout my journey, I have been fortunate to receive recognition for my literary works and contributions to various organizations. Winning the first prize in essay writing conducted by the United States Information Centre in 2011 was a proud moment, reaffirming my talent as a writer. My poems published in esteemed magazines like Mathrubhumi, Bhashaposhini, and Madhyamam resonated with readers, providing an avenue to connect with diverse audiences.
As I continue my pursuit of knowledge and personal growth, I am currently undertaking a master's degree in Business and Administration at De Montfort University, Leicester. The program has exposed me to a diverse array of concepts, from business strategy to finance and marketing, equipping me with the tools to tackle complex challenges in the corporate world. The international exposure and cross-cultural interactions have broadened my horizons, fostering a global perspective that inspires me to be a responsible and compassionate global citizen.
As I look back on my journey, I am grateful for every experience that has shaped me into the person I am today. From the literary realm to the world of business and leadership, each step has been a transformative chapter in my life. Armed with a passion for creativity, a dedication to continuous learning, and a commitment to making a difference, I stand ready to embrace the future with boundless enthusiasm and an unwavering spirit. Join me as I continue my expedition towards excellence, leaving an enduring impact on the spheres of literature, business, and beyond.
My Achievements:
Beyond the realm of literature and journalism, I found immense fulfillment in serving as the former state secretary at Akhila Kerala Balajansakhyam, an organization dedicated to empowering children. In this role, I cultivated effective leadership abilities and honed my skills in team management, communication, and problem-solving. It was a transformative experience, shaping my belief in the power of community and the value of service.
Contact Stunited, and create your own story of success with us!