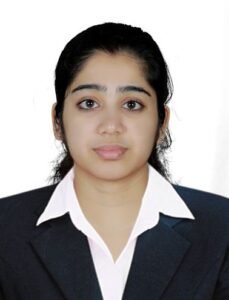 Aswathi Krishna Swathi
Hi, I am Aswathi Krishna Swathi and here is my story of success!
Read my story and get yours Published!
My Background:
My journey commenced with the completion of my engineering degree in Electronics and Communication, a foundational step towards a career of possibilities. I embarked on a remarkable journey within my family's garments company, assuming the pivotal role of Sales Manager. This early experience allowed me to immerse myself in the intricate world of business, honing my skills across various facets of operations.
However, life's course took an unexpected turn, leading me to Bahrain for personal reasons. In this unfamiliar territory, I seized the opportunity to reinvent myself professionally. I embraced the role of an Operational Controller at a refrigeration company. In this multifaceted position, my responsibilities spanned sales and stock control, data management, client engagement, and email correspondence. This transition not only broadened my skill set but also deepened my understanding of operational efficiency.
My Journey:
My journey has been marked by transformative transitions and unwavering commitment to growth. From a family business in India to the dynamic landscape of a refrigeration company in Bahrain, each step has been a testament to my adaptability and determination.
As an Operational Controller, I navigated the intricacies of sales, inventory management, and client interactions with precision. This role afforded me a holistic perspective on business operations and fortified my ability to drive efficiency and value.
Recognizing the importance of continuous self-improvement, I embarked on a transformative path – pursuing a Master's degree in Business Administration (MBA) with a specialization in Business Analytics. This academic endeavor is not merely a pursuit of knowledge but a strategic move to equip myself with advanced analytical skills and a profound understanding of strategic business practices.
My Learning:
My journey has been enriched with invaluable lessons:
Life's unexpected twists and turns can lead to remarkable opportunities. Embracing change with an open mind can open doors to new horizons.
The pursuit of knowledge should be ceaseless. Education and skill development are essential for personal and professional growth.
Diverse experiences foster a comprehensive understanding of business operations, enabling more effective decision-making.
As I embark on the next phase of my journey, armed with an advanced academic foundation and a wealth of experiential knowledge, I am poised to make significant contributions to organizations in the future.
My Achievements:
Throughout my journey, achievements have been the stepping stones to my growth:
In my role as Sales Manager at the family-owned garments company, I played a pivotal role in driving sales growth and building enduring client relationships.
As an Operational Controller in Bahrain, I harnessed my skills to optimize sales and stock control, streamline data management, and deliver impeccable client service.
My decision to pursue an MBA with a specialization in Business Analytics underscores my commitment to continuous learning and personal development.
Contact Stunited, and create your own story of success with us!