1. What is Digital Marketing?
Digital marketing indicates the use of various digital channels to reach targeted customers and to market products/services of businesses. Digital marketing essentially involves the effective utilization of websites, social media, and many other channels.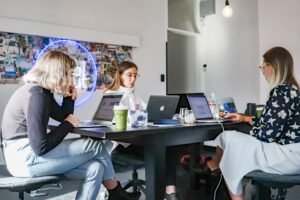 2. Is digital marketing a lucrative career?
With the advent of digitalization, businesses across the world are going digital and are having an intense online presence today. Every business establishment requires a digital presence these days (starting from large, medium to small-sized firms) and the solution for this is a digital marketer. Therefore, there are lots of job opportunities in this area.
With the constant advancement of technology, your career will also grow steadily if you can persistently develop your skills over time
According to reports, the digital economy is developing 10 times faster, therefore, it will certainly offer various career opportunities with steady growth
As per findings of a report issued by Total Jobs, the average salary in the segment of digital marketing is approximately £375000 in the UK. Also, this can change considerably depending upon experience and specialization.
Digital mechanisms are relatively cost-effective in comparison to traditional methods of marketing. This implies that businesses can get better or equal results for less investment. Also, the cost-effectiveness of digital marketing makes it an affordable option for even small-sized firms. This implies that there is no dearth of vacant positions in digital marketing divisions in a wide variety of industries.
Digital marketing constitutes roughly 35% of the advertisement spending of businesses
In the year 2016, there were approximately 174100 digital marketing-oriented job postings
During a research survey, roughly 72% of responding marketers from the UK mentioned they had allotted a higher proportion of their 2020 marketing expenditure to online channels
During a January 2021 research survey, 78.9% of responding marketers mentioned that they moved resources to develop improved customer-facing digital interfaces during the time of the pandemic
Digital Marketing expends increased by approximately 9.6% during 2020-2021 in the UK
During a survey of businesses in the UK, it was observed that social media was considered to be the most successful marketing channel during the year 2020, mentioned by 25.6% of responding professionals.
£3.6 billion is expended on social media advertisements in the UK each year, and as per the latest projections
Jobs in the digital marketing area are some of the fastest growing across all segments in the UK, as per LinkedIn
61% of Surveyed Businesses Plan to further add Digital Marketers to Their Squad
40% of Digital Marketing roles are filled by professionals with 4-10 years of work experience
4. Careers in Digital Marketing
Digital Marketing Manager
Content Manager
Content Strategists
Web Developer and Designer
Social Media Executive
SEO Executive & SEM Expert
Content Marketer
Analytics Executive
Customer Relationship Manager
E-mail Marketing Manager
Digital Agency Director
Virtual Reality Developers and Editors
E-Commerce Executive
UX Designer
Analysts and AI Specialists
5. Types of Digital Marketing
Website Marketing: 
Website marketing refers to promoting an official website of a company in a bid to bring a higher number of visitors to the site. The visitors need the people who will possibly buy the products/services of the company.
Pay-Per-Click (PPC) Advertising
Pay-per-click (PPC) advertising helps businesses to reach internet users on different digital platforms using paid adverts. Marketers can launch PPC campaigns on Facebook, LinkedIn, Pinterest, Twitter, and Google and display their adverts to people looking for the keywords related to their products/services.
Content Marketing
Content marketing refers to the process of reaching prospective customers using high-quality content. Content is normally published on the business website and then widely distributed through various social media platforms, emails, or even promoted by Search Engine Optimization, and PPC campaigns. The primary tools of content marketing are blogs, vlogs, podcasts, ebooks, online courses, and webinars.
Social Media Marketing
The primary goal of a social media marketing campaign is to increase brand awareness and institute social trust. This process develops an online presence by attracting a higher number of followers through different channels of social media namely, Facebook, Instagram, YouTube, Pinterest, Twitter, and others.
Email Marketing
Email marketing can make the targeted customers on your email list aware of your brand, your new products/services, and quantity and price discounts. Therefore, this process of marketing allows businesses to reach their prospective customers interested in their products/services.
Affiliate Marketing
With affiliate marketing technique, influencers engage in promoting products/services of businesses and receive a commission for every sale transaction or generation of leads.
6. Top UK Universities for Digital Marketing Courses in the UK
7. Digital Marketing Salary in the UK
The salary for graduate marketing jobs ranges between £18,000-£22,000, while the figures may vary depending upon experience and degree of specialization
Experienced digital marketers can expect around £30000 in senior managerial roles. This can also increase potentially to £40000.
8. Working hours
Working hours are usually 35 to 40 hours every week, even though working hours might increase depending upon business contingencies (for example, during the launch of marketing campaigns or other projects).
Part-time jobs in digital marketing are available in the UK. Short-term contract based jobs are also available, normally through recruitment agencies.
Contact Us:
Phone:01604328800
WhatsApp:+44 7558999784
Email:hr@stunitedjobs.org
Find more such articles on on Careers, Jobs, and Internships in the UK and Education here at Stunited News Feed!
We design beautiful CVs that can help in attracting more interview calls. So, Get your CV, LinkedIn Profile, and Job Application Letter designed by our experts here – Stunited. Try Now.
Apply for Part-time/Full-Time/Internship Jobs here -Stunited Jobs Portal
#UK #UKJobs #UKjobseekers  #Stunited #StunitedNewsfeed #StunitedJobs #Stunitedorg #JobsInhighdemandintheuk #Indemandjobsintheuk #mosthighdemandjobsinuk #highpayingjobsintheuk