Do you intend to optimise your LinkedIn Profile for better visibility?
Are you unsure or just wondering which segments of your profile need to be highlighted?
In this piece, you will find how to optimally use your LinkedIn profile to build a strong impression with connections.
1. Optimise your LinkedIn profile picture for better visibility
A LinkedIn profile can be considered to be the keystone of your professional brand on the online platform. A simple list of all the professional experiences can be dull content to have on your LinkedIn profile. In its place, try to complete all the basic parts in a way that expresses your personality and optimise your LinkedIn profile for better visibility.
Optimize Your Profile Photo
To begin with, try to make your visual impression impactful by presenting an optimized professional photograph.
Pick a current photograph that looks professional, looks like you, complete with your normal grooming, your present hairstyle, spectacles (if you wear any), and the clothing that you would wear to workplaces.
Use a high-resolution image (preferably 400 x 400 pixels.
Try to adjust and fine-tune the photo to ensure that your face takes up no less than 60% of the total frame space
Do not use group photos and ensure that you are the only person visible in the photograph.
Request someone else to capture your photo, in place of posting a selfie.
Display a smiling expression. Studies reveal that when people smile in their photos, observers judge them to be more sociable, competent, and influential.
Keep an uncluttered and neat background in the photograph
Take the photograph in natural lighting.
Select a filter sensibly, if at all. Although you must not distort your photograph, LinkedIn essentially provides certain filters which might give your photograph a different finish. You can try to use them and see which one suits best for the image you are aiming to present.
Here are some specimens profile pictures:
2. Customize your profile URL
Next, customize your profile URL to help others easily find you online. Usually, this URL presents your full name without anything else. However, if you have a common name and if it is not accepted, then you can make a minor modification such as incorporating a middle initial or something like that.
To customize the URL on your profile, hit the "Me" icon at the top of your home page and click View Profile. After that, on your profile page, select the Edit Public Profile section & URL on the right-hand side. Under Edit URL, select the Edit icon right next to your public profile URL. Thereafter, Enter your name without leaving spaces and select Save.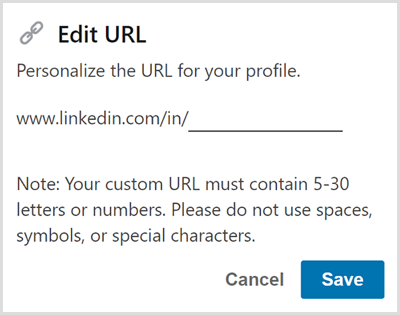 3. Optimizing your headline
Boosting your headline that is displayed directly under your name is particularly important as it is extremely visible, plus searchable. The headline is restricted to 120 characters; therefore, take care to use valued keywords that your targeted addressees might use every so often.
By default setting, the headline presented on your LinkedIn profile is your present job title. Nevertheless, your present job title:
May not essentially be what you intend to be recognized for.
It may be an exceptionally specified role that a small number of people are aware of.
May not be descriptive or notable.
As an alternative, design a short phrase or a short sentence that clarifies who you are and emphasize your strengths.
To add or update your headline, select the "Me" icon right at the top of your home page and click View Profile. On the profile page, select the Edit icon and a dialog box for Edit Intro appears where you need to enter your content for the introduction. After writing the same, click Save.
Example of optimised headline is presented below: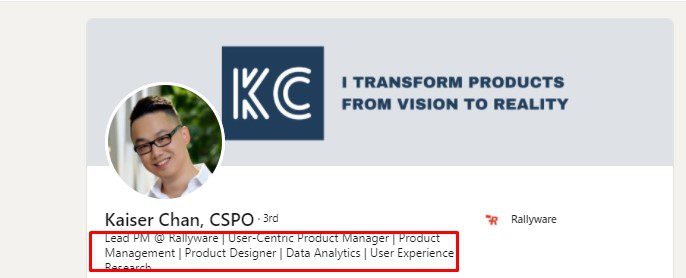 4. Draw Interest with Your Cover Image
Your background image is an immense opportunity to display your interests and highlight what is important to you. Selecting a relevant and striking image can draw attention and assist your profile to gain an edge and stand out. Based on the message that you want to send, you could also enter a work-related image.
Here are some instances of great background/cover images that can aptly throw light on their personal brand: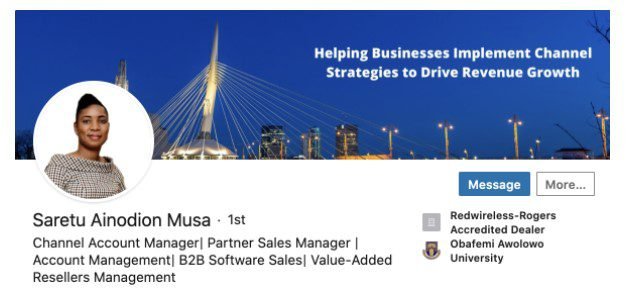 5. Introduce Yourself and Your Work with Video
You can include a video in your introduction section as well as other areas of your profile. Video is an outstanding way for narrating stories, sharing testimonials and endorsements with the client, and illustrating what you do/your roles. Presenting yourself in a video also makes your introduction personalised. You can instantly stick out from the mass, especially if the majority of your competitors are not using a video.
You can upload a video to a host site and thereafter share the video link on your LinkedIn profile for better visibility. You can share videos from any of the below-mentioned video sites LinkedIn:
After uploading your video, you can add this video introduction part to your LinkedIn profile. Right at the top of the LinkedIn home page, select the Me icon and click View Profile. After that, on the right-hand side, select the Edit icon at the side of your profile image and scroll down at the Media section below. Click Link and then paste the video link, and then select Add.
Then, a dialog box for Edit Media appears. In that, you can enter a title and explanation for your video. When you complete this step, select "Apply" and "Save".
6. Narrate Your Story In Your About Summary
In the LinkedIn Summary section, you have 2,000 characters to present a compelling as well as attention-grabbing story about yourself and your career in writing
You can write short paragraphs that point out:
Who you are as a trained professional and what your present role is.
Your strengths, skills, accomplishments, and other pertinent work experience that you would want to throw light on.
You can talk about your work, goals, and ambitions.
Examples of pesonalized summaries are given below for drawing ideas.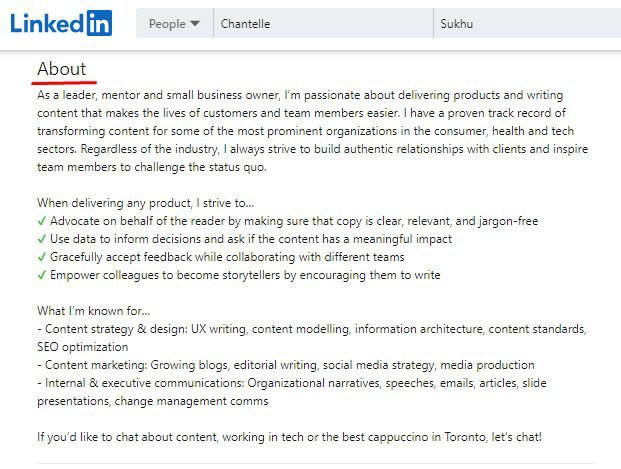 7. Modify Your Experience Segment
At times we include all the jobs that they ever had as we have certainly taken gathered some important experience from each one. However, to keep your profile optimized for employers who are operating in your sector, restrict your list in the Experience segment to roles that are pertinent to the job you are doing currently or to the job you intend to get.
8. Acquire Endorsements and Recommendations
Along with endorsements for your skills, you can also showcase recommendations. Your recommendations and references shape the level of confidence and trust of your prospects in you. Preferably, your profile highlights your recommendations from different members of your target addressees with whom you have already engaged in business.
9. Share Your Academic Qualifications, Certifications, and Awards
Education is a primary criterion on LinkedIn; therefore, filling in this field is extremely important. If you did not attend university, then in that case you can refer and speak of your high school.
To add and edit details regarding your academic qualifications to your LinkedIn profile, click the plus sign in the top right-hand side section of the education segment. In that segment, a dialog box appears where you can enter details regarding your school, grades/marks, studies, and activities. You can also add relevant media (photo/video) if you have one. LinkedIn also has a distinct segment for achievements where you can add qualifications, awards, publications, plus other details that are important to professional testimonials and experience.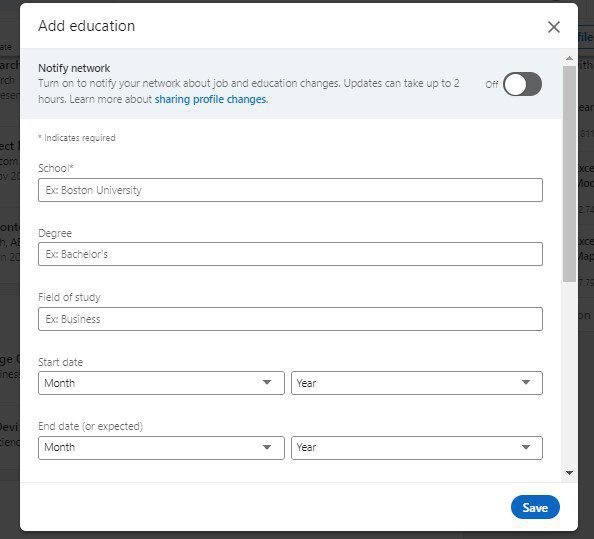 10. Engage and Grow Your Network
Engagement and networking are important to an effective LinkedIn profile for better visibility. A higher rate of engagement will help you to stand out and draw more opportunities.
There are many ways in which you can enhance your interactions on LinkedIn. Some of them are mentioned below:
Requesting, and giving endorsements;
Requesting both past and current colleagues;
Adding comments and requesting feedback on content that you share; and
Writing and posting long-form content, for example, blog posts.
#
Stunited
will keep you updated with all information of students' news through different media platform. F
ollow us on LinkedIn, Facebook, and Twitter
 for regular updates. Our community shares news to help the student & empower the society.
For regular updates on career guidance, 
To connect, share ideas, ask for suggestions, discover opportunities and get paid after solution for your higher education, sign up for 
Stunited.org
JOIN – #
Stunited.org
, a dedicated social media for #higher  #education #career
For career guidance, and for direct consultation with professionals,
Contact us
Phone:01604328800
Email:hr@stunitedjobs.org
#LinkedInProfile #Resume #JobSeekers #Complement #TailorResume #Optimise
#LinkedIn #OptimiseProfilePhoto #Optimisebackgroundimage #OptimiseURL #Network #Engage #Visibility #JobSeekers #OptimiseLinkedIn #Reach #Endorsements #Recommendations #CustomiseExperience