A flawless, captivating, and optimised LinkedIn summary can be considered to be a significant instrument for job hunters, at the time of applying for jobs conventionally and while professional networking on LinkedIn as well. The brief outline about you is unquestionably as essential as the headline. Your LinkedIn summary allows you to demonstrate your unique value proposition, presenting potential recruiters what you put forward, propose, and can bring to the table and what makes you unique.
This post includes great LinkedIn summary samples to refer to, along with our exceptional formula and everything that you need to know to frame the just right LinkedIn summary.
1. Prepare an outline before writing about section
Although your LinkedIn profile is not an academic essay, it is still constructive to outline the key points that you intend to say and the order in which you would like to present them. Following a predetermined layout can assist you in communicating clearly and in brief, and help you in crafting an optimised LinkedIn summary.
You can consider the layout similar to the one mentioned below:
Hook: An intriguing sentence that grabs the attention of the readers and makes them want to continue reading. When a user usually enters and views your profile, they can see only the first three lines. Therefore, with a stimulating and catchy start, you can make them curious about you and make them click "see more" to know more about you.
Mission: You can inform the readers of the reasons why you do what you intend to do
Knowledge and skills: Express what you are good at
Achievements: Showcase your accomplishments and demonstrate how your knowledge and proficiency helped you in delivering results earlier
Call-to-Action: Communicate clearly and state to the readers what you want them to do after going through your summary.
2. Hook the person who reads with a strong opener
The purpose of the first sentence of your summary is to catch the attention of the reader and to make them want to continue reading. This is the reason why it is extremely important to grab their interest early and induce them to keep reading. This approach is called a hook, used for an optimised LinkedIn summary
You can grab the attention of your readers with your summary by introducing a loop that can only be closed with an additional explanation or by making an odd claim that requires further justification.
LinkedIn summary examples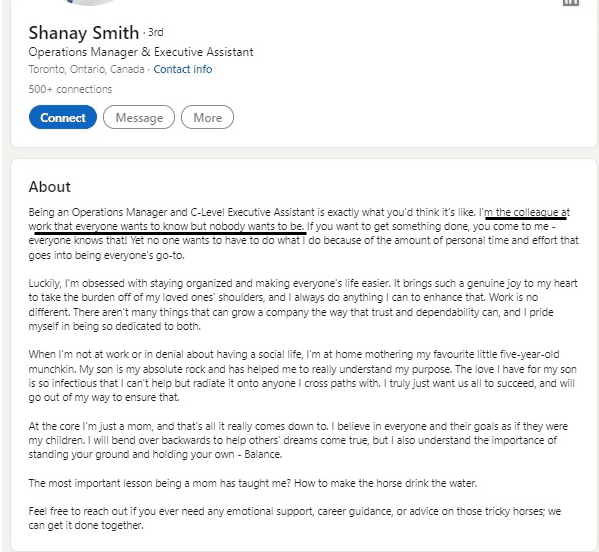 3. Express the reason why you do what you intend to do
People can associate with stories and beliefs more than the direct "what you do." Even though the "what" is essential, also consider including the "reason" behind what you do or intend to do in the future. Try to identify and understand what has drawn you to your profession. These will certainly help in making your LinkedIn summary more psychologically resonant.
LinkedIn summary examples
4. Spell out your Industry expertise (if any)
Then, it is important to strengthen your mission/goal/purpose with your expertise. Define and illustrate your background and academic qualifications in two-to-three sentences. Your summary should discuss your expertise in the industry, and your eagerness in helping others achieve results. Your summary must mention your expertise and your availability for consulting.
LinkedIn summary examples
5. Talk about your specialties and skills in simple terms
After emphasizing your proficiency, talk about what you concentrate on in 1-2 sentences. Whether you aim to appeal to recruiters or prospects, make attempts to talk clearly about the things you do well to lure the opportunities/breaks that are aligned with your mission and purpose.
LinkedIn summary examples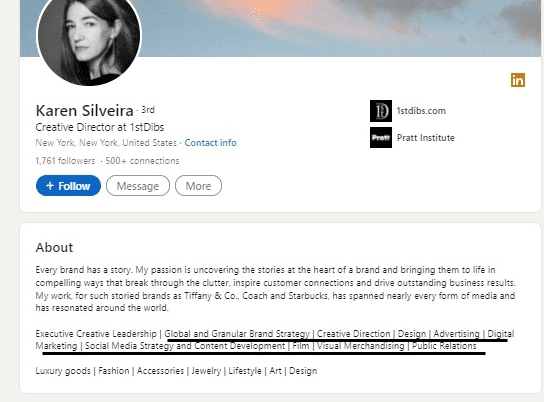 6. Provide sufficient data to support and prove your expertise
Make use of data to reinforce and support your accomplishments. Numbers and data can support your claim by presenting tangible proof of the results.
Example: 'Grew revenue by 42% over two years.
LinkedIn summary examples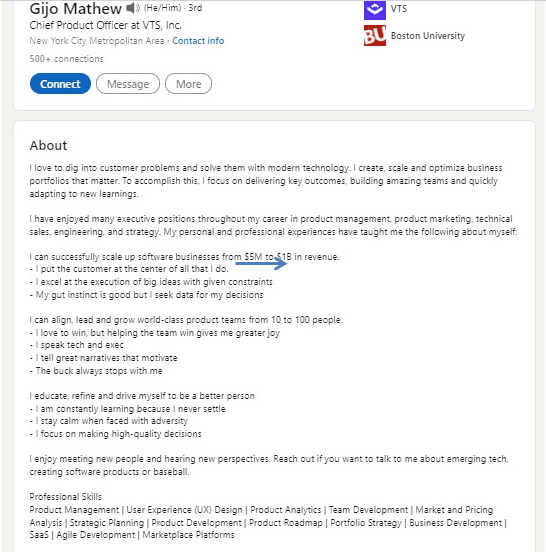 7. Highlight your professional interests
Next, it is important to focus on your professional interests. Speak about the things that you do to support others, and your purpose in doing so. It is quite different from your expertise, skills, knowledge, and proficiency and it is not always measurable or fact-oriented. As these are your interests in your line of work, you do not have to offer data to validate them. You just need to demonstrate that you are committed to following them and need to sound enthusiastic about them.
LinkedIn summary examples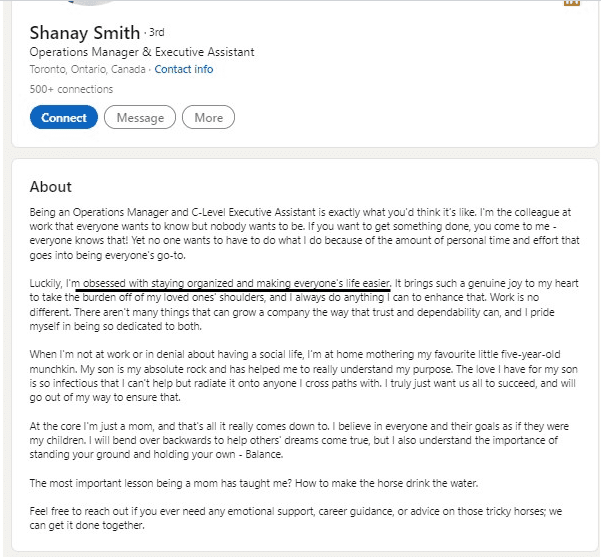 8. Include a call-to-action
Finish your LinkedIn "About Section" with a clear and crisp call to action. Convey the readers what you exactly want them to do, if it is to refer you for a job, send you a LinkedIn message, or look into your website. If you are already working, you might want to be a little bit calculative with your call to action. Something like 'feel free to contact or to learn more about me' would be enough if you do not want your present employer to make out that you are chasing new prospects/opportunities.
Example: "Reach me at email@address.com or book time on my calendar here: [Calendar link].
LinkedIn summary examples
9. Authenticity
Authenticity is possibly one of the most main moves in building your optimised LinkedIn summary.
Being authentic and trustworthy is extremely important. It helps you to gain a competitive edge and stand out from your competitors (other LinkedIn users who might possess similar experience, skills, expertise as you have.
Try to avoid using generic expressions and make sure that your profile's summary is distinctive to you and conveys to the reader what makes you unique.
Some exceptional ways of being authentic on LinkedIn include attaching introduction videos in your summary section and uploading media to showcase your work.
10. Keyword Optimisation
Your LinkedIn profile needs to be optimised with purposefully-placed keywords to appear in searches and enhance its traffic.
Together with the LinkedIn headline, an optimised LinkedIn summary section is also one of the most essential parts of your profile that need to be considered at the time of optimising it for search. If this task is undertaken appropriately, then it will certainly improve your online presence and attract more potential recruiters/prospects to your profile.
Try to include keywords that are appropriate and relevant to your line of work and industry. Furthermore, include your specialties and skills at the end of your summary; and in this segment, you can include a list of keywords to increase your traffic and ranking.
LinkedIn summary examples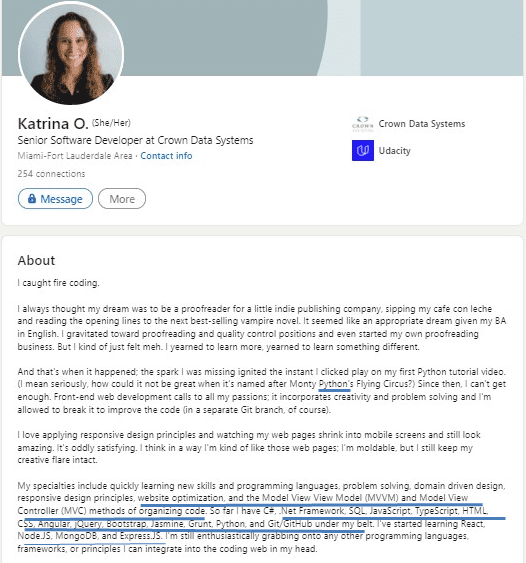 To learn more about an optmised LinkedIn summary, and to know more on updating LinkedIn profile for better visibility, refer to the "How to Optimize Your LinkedIn Profile for Better Visibility?" and "How your LinkedIn Profile can be used to Complement Your Resume?" in the blogs section of Stunited Newsfeed.
For career guidance, job assistance and for direct consultation with professionals,
Contact us
Phone:01604328800
Email:hr@stunitedjobs.org
#LinkedIn #Summary #networking #calltoaction #KeywordOptimisation #professionalinterests #expertise #skills #recruiters #accomplishments