STEM education when chosen by any student, makes itself more valuable by offering highest paying STEM career in the UK job market. STEM degree in UK follows a strict teaching methodology, the STEM graduates have their own set of perks in the UK labour market. STEM degree holders are more employable than non-STEM graduates, the career for the STEM graduates enjoy numerous other benefits. STEM graduates in UK are likely to enjoy more salary, better jobs, higher immigration chances. These benefits can be said to have a double impact on every possible aspect that influences a professional's life.
Here are some of the highest paying STEM career in the job market
Biomedical Engineer – you'll use your knowledge from Healthcare and Engineering to design new software and devices for the medical industry. Average salary: 56430 GBP/year
Computer System Administrator – you'll be in charge of managing computer networks, operating systems and software, and make sure every computer within your organisation runs smoothly and securely. Average salary: 50490 GBP USD/year
Environmental Engineer – you'll use your Engineering knowledge to find solutions for environmental problems like global warming, pollution, waste disposal, etc. Average salary: 54202 GBP/year
Forensic Science Technician – you will help police departments to collect and analyse evidence which is used during criminal investigations. Average salary: 30321 GBP/year
Accountant – you'll prepare and examine financial reports, verify if they respect the law, ensure taxes are paid on time, and constantly evaluate your business' financial operations. Average salary: 30873 GBP/year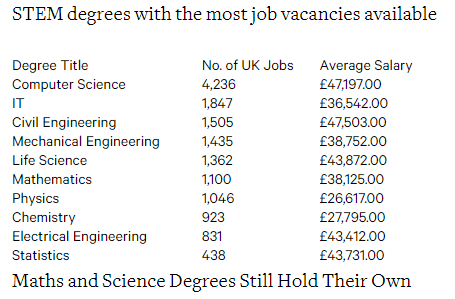 STEM UK degrees and labour market trends:
With almost all UK universities charging minimum tuition fees of £9,000 a year (or max £28000 a year) for STEM degree in UK, students are rightly concerned with getting the best ROI (return on investment) in an UK STEM degree.
However, there are top ranked STEM courses tuition fees in UK universities :-
· University of Oxford: between 1,985–94,800 GBP/year
· University of Cambridge: between 5,500–59,000 GBP/year
· Imperial College London: between 7,120–54,500 GBP/year
· University College London: between 7,770–36,900 GBP/year
· London School of Economics and Political Science: between 5,830–61,180 GBP/year
Therefore, if you are holding a Bachelors degree in STEM, or Masters degree in STEM and thinking of pursuing higher education in UK, time is now. Highest paying STEM career in the UK job market requires patience and passion for STEM. Connect with UK STEM degree holder alumni, create your student identity by joining www.STUNITED.org the social networking site for higher education students.
#UK #STEM #job #STEMadmission #STEMcareer #STEMtuitionfees #Bachelors #Masters #highereducation #students