January 24, 2022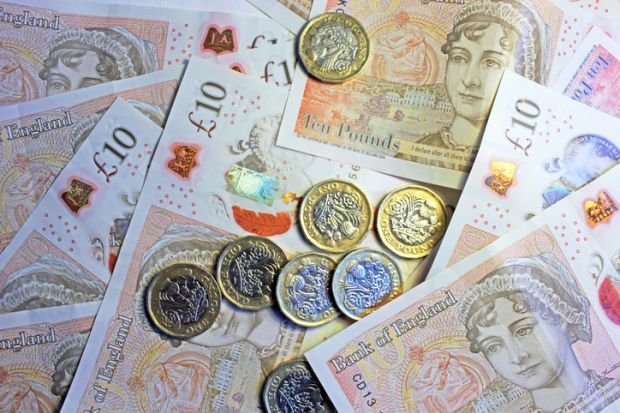 When the Covid crisis first erupted, the warnings for the finances of universities, especially those in anglophone systems that relied on international student recruitment for a large part of their income, were dire.
In the UK, the Institute for Fiscal Studies thinktank warned a few months into the pandemic that around a dozen institutions could go bust in the longer term due to the financial hit of lost overseas fee income as well as other difficulties such as covering pension deficits.
Accounts for the 2019-20 financial year, the tail end of which was hit by Covid, gave a glimpse of how institutions were already seeing a downturn in overseas recruitment and were preparing for the coming storm by planning for worst-case scenarios and re-negotiating their lending agreements with banks.
Now, a year on, the accounts for 2020-21 – an academic year that was impacted by Covid from start to finish – are emerging and giving a fuller picture of the pandemic's impact.
The good news in purely financial terms for the sector is that, by and large, the early actions universities took – mainly revolving around cutting costs – appear to have mitigated any lost income. And in many cases that lost money has not been, as predicted, as a result of a major downturn in overseas enrolment.
Instead, as in 2019-20, it has mainly come in the form of dents to "other" revenue streams such as student accommodation rentals, catering and conferences, all hit by campus lockdowns. Examples like the University of Sussex, which reported a £10 million hit to residences income, or Newcastle University, which said revenue from residences, catering and conferences fell by 24 per cent, are fairly common.
But on overseas recruitment, many universities increased enrolment and income, often by using later course start dates and online learning to deal with the difficulties of people hoping to travel in-person to the UK.
Striking examples among the biggest research-intensive universities, which historically have relied on international fee income to help subsidise the costs of their research, include King's College London, whose enrolments from outside the European Union rose almost 20 per cent, helping overall fee income to go up almost £80 million, or 18 per cent, and total income to top £1 billion for the first time.
Another was the University of York, where total fee income climbed by more than £30 million, with £18 million generated by giving students the option to start courses in January, something that was "particularly attractive to postgraduate international students on one-year courses". Its international enrolments overall also climbed by around a fifth.
Such increases in international recruitment were certainly not widespread.
An example among big research-intensives was Southampton, where numbers fell 23 per cent, due to "ongoing concerns with global travel, with some students preferring to defer their studies by a year", while examples outside the Russell Group include Loughborough University, which reported a 16 per cent fall in overseas fee income, or the University of Surrey, which saw such revenue fall by about £6 million.
However, even where this occurred, many institutions seem to have boosted their UK undergraduate numbers, thanks in large part to the late decision to allow teacher-predicted grades in the summer of 2020, which led to a boom in acceptances, helping to mitigate lost income from accommodation, conferences and catering.
At the same time, many universities took action in two main areas to control their costs: constraining spending on staff either by freezing recruitment or through voluntary redundancies; and putting large building and other investment projects on hold.
It has led to some universities reporting overall positions that are better than projections made at the beginning of the pandemic. For instance, City, University of London says that its deficit of £4 million (which, it says, turns into a surplus of £4 million if "volatile pensions movements" are accounted for) was "better than anticipated at the beginning of 2020-21, when we were planning for a much larger deficit".
It is not hard to find other deficits, although these are sometimes not a reliable measure of financial health due to pensions movements and the way assets are accounted for. For example, the University of Bath recorded an official deficit of £32 million but says this was mainly down to land and building valuations, and using a "historic" accounting measure gives it a surplus.
Whether in deficit or surplus, most institutions, it appears, are in a healthier cash position than in 2019-20, when some institutions warned that they had hit points where cash balances were worryingly low.
Take Loughborough, for instance, which, despite its overall income falling by more than £25 million in 2020-21, saw its net cash inflow reach 17 per cent of income, "a significant increase on recent years" and reflecting "the stringent expenditure controls maintained throughout the year".
The underlying concern may be that this improved cash position in the sector may have seen universities through the stormiest waters of the pandemic but it has come at the cost of not investing in areas that are vital if the boom in student numbers is to be supported.
Andrew Connolly, chief financial officer at the University of Exeter, said while he did not think anyone in the sector "set out to 'hoard' cash", a "rational response" to the "huge uncertainty" caused by the pandemic was to take action such as deferring building and maintenance projects and freezing staff levels.
But he agreed that the way student recruitment had been much higher than anticipated meant the financial positions being reported in 2020-21 were now "unlikely to be a sustainable position for many".
"Workloads for academics are higher and not sustainable, digital investment needs to be accelerated and capital investment needs to normalise at some point soon. Future student numbers need to be rebalanced – or staff numbers – in order to get to a more sustainable balance," he said.
Commentary in the accounts appears to support this view, such as King's College London reporting that its "larger than planned student cohorts have brought with them new risks and challenges, and costs are expected to rise as a result".
However, Mr Connolly and sector analysts pointed out that uncertainty in the sector is here to stay, bringing growing tensions between the need for investment and the importance of healthy cash balances.
Deborah Watson, audit director at accountancy firm Grant Thornton, said that "with increasing inflation, significantly higher cost bases impacting capital expenditure, the sector's reliance on overseas labour and materials and the still unknown result of how the UK's relationship with the European Union will ultimately untangle for the higher education sector, now may be too soon to loosen the purse strings".
"But a decisive balance must be struck by universities to avoid losing out on key opportunities," she added.
Julie Mercer, principal with responsibility for higher education at management consultancy Nous Group and a former global lead for education at Deloitte, said universities may need to "think radically" about their costs and how to spend money "wisely".
"This means ensuring that you are investing in technology to support students in and out of the classroom, staff to reduce manual administrative tasks and research that supports the whole research life cycle from application through to exploitation."
Fundamental structural issues also still need addressing, with Ms Mercer saying pensions was "at the top of my list – both in terms of offering a competitive offer to staff and in how the accounting treatment drives behaviour".
Another thorny problem is that income from the area where there is now a seemingly reliable source of recruitment – UK undergraduates – is increasingly struggling to cover costs, simply due to the fee cap being frozen at £9,250 since 2017.
Martine Garland, a lecturer at Aberystwyth Business School who has studied the sector's finances, said that although universities "should technically be capable of meeting the needs of a UK student out of their £9,250", at some stage it causes a problem for finite campus resources.
"At a high level, the issue comes when you get to a growth tipping point and you need to invest to service the growing population. Cramped classrooms and a higher teacher-to-student ratio will have a reputational impact; growing your campus facility and teaching staff has a financial impact," she said.
Losing income on home students could leave universities little choice but to focus on international recruitment, with its higher fee margin, to bolster their revenue, something that "sounds a bit nuts" if "the only way the UK higher education system can work is if we focus on educating the young people of other countries", she said.
"Surely at some point we have to look to the government. If they want higher and higher numbers of 18- to 19-year-olds going to university, then they need to provide funding for institutions to accommodate this growth."