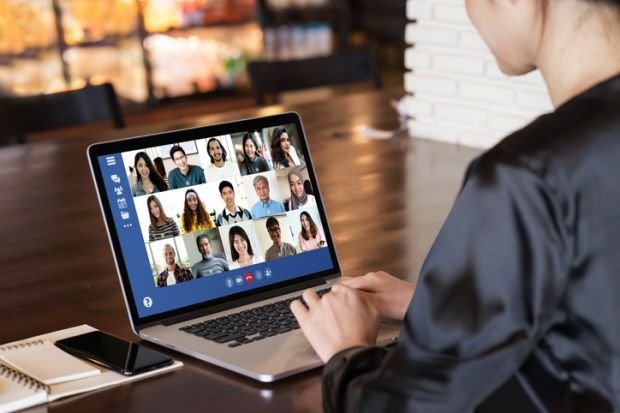 Breaking strike with recorded lectures 'may be against the law'
Intellectual property rights are likely to rest with lecturers despite university ownership claims, say legal experts
Universities may be breaking the law if they reuse old lectures during upcoming strikes, despite many institutions claiming to hold licensing and ownership rights over recorded teaching materials, a study warns.
While there is some confusion over who owns learning materials recorded by UK lecturers, it is unlikely that universities would be legally allowed to use them without the creator's permission in the event of industrial action, says the new report by the Higher Education Policy Institute, which sought opinions from intellectual property experts from academia.
If a lecturer had given consent for their work to be reused for the purposes of pandemic-era teaching, they would still need to give specific permission for it to be used in a different context – such as a strike, according to Robin Jacob, director at the Institute of Brand and Innovation at UCL, who is quoted in the report by HEPI's director of policy and advocacy Alexis Brown.
Staff at 58 UK campuses will begin a three-day walkout on 1 December in an ongoing dispute over pay, pensions and working conditions.
"Universities should think twice before considering reusing old lecture recordings to reduce the impact of the latest wave of strikes," said Dr Brown, who added that "depending on what was agreed when the lectures were first recorded and their institutional IP policy, it may not be legal for them to do so".
Copyright for online teaching materials is likely to rest with lecturers in the first instance, explained Dr Brown. But universities may have licence to reuse lecture recordings depending on what was agreed, explicitly or implicitly, when those recordings were first produced. In some cases, permission might be decided based on emails communicated to staff when those recordings were first produced, the report explains.
That said, some legal experts interviewed for the study published on 30 November claimed universities may be able to invoke exceptions to performance and copyright rules and claim ownership over lecturers' work.
The ambiguity around permission to reuse recorded materials should be urgently addressed by universities, preferably in collaboration with staff, recommended Dr Brown.
"Given the way the pandemic accelerated online learning in universities, universities will often now need to re-evaluate whether their IP policies are fit for purpose," she explained, adding that "this topic clearly needs more discussion among university staff – many of whom may not know what their institution's policy is".
"It would be in everyone's interests, especially the interests of students, to ensure that these policies are developed collaboratively and iteratively as more teaching is delivered digitally," said Dr Brown.
Lecturers should also familiarise themselves with the rules and should also consider removing access to their materials from virtual learning environments at the end of term to hinder their reuse, she added.
However, Raj Jethwa, chief executive of the Universities and Colleges Employers Association, said it had issued "comprehensive guidance" to universities on the use of recorded lectures, and that institutions "understand the need to review their intellectual property and lecture capture policies and employee/student contracts on a regular basis".
Some employers affected by strikes "will do all they can to try the minimise any damage to the student education and experience," he continued.
Jenny Lennox, bargaining and negotiations official at the University and College Union, which has called the strikes, told Hepi that some university IP policies developed prior to the pandemic now constitute a "massive rights grab" as staff are performing additional labour to record their materials without any right of ownership.
Meanwhile Matt Fisher, senior lecturer at the Faculty of Laws at UCL, warned that without appropriate policies and practices in place academics risk becoming "low-rent YouTube stars" – with little say over how and where their lectures are reused.